Event Friday 11 November,
Millwall FC Stadium, London
A CHARITY football match is attracting huge support from former sports stars and celebrities as it draws closer to kick-off.
Former professional footballer and TV personality, John Fashanu is a recent signing for the event which will take place on Friday 11 November, at Millwall FC, London to raise awareness for Rugby for Heroes and Sports Traider.
Fashnau joins the World of Football team members – former professional footballer Marlon Harewood, along with singer and TV personality Jake Quickenden, The Only Way is Essex's Dan Osborne, who came third in 2018's Celebrity Big Brother, and Jordan Davies from Ibiza Weekender – to name but a few – who will be managed by Mick McCarthy.
The World of Rugby team, which will be managed by Harry Redknapp, sees a line-up including ex Rugby professionals Jordan Crane (England), Shane Williams MBE (Wales), YouTube star LickleMan and sports TV presenter Ibrahim Khadra.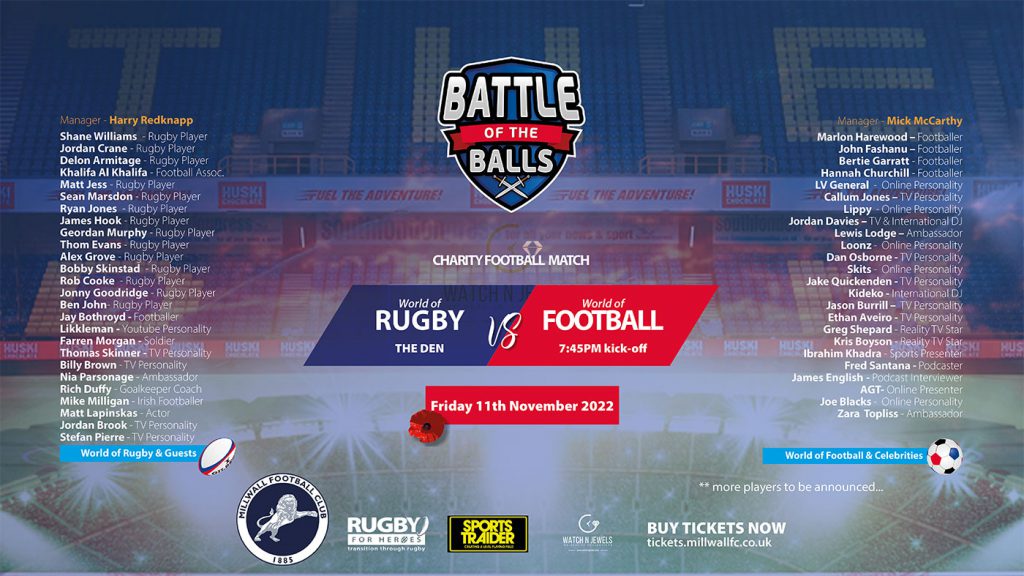 Rugby For Heroes works within the rugby community to raise funds and awareness for military personnel who are making the transition to civilian life. Helping them gain employment by way of a 5-day residential course, teaching them to become a level 2 community rugby coach. The course also addresses mental health issues and instills self-confidence.
"We are all really looking forward to supporting this game, as the rugby boys are more excited at playing football than they are rugby legends games," says Rugby for Heroes Patron and Rugby international, Mike Tindall MBE.
Journalist and TV Presenter Nick Knowles, who is also a Rugby for Heroes Patron, added: "Once again Rugby for Heroes is putting on a great spectacle of a sporting event where you can see some of your heroes from Rugby and Football in action and at the same time raise some money to support veterans who have served their country – it's a win-win unless you're playing for one side or the other."
Sports Traider is a UK charity that exists to give young people employment and sports participation opportunities and to help with self-confidence, retail skills and mental health. Sports Traider so far has 14 charity sports shops – the first of their kind – throughout the UK.
Founder and former Unsung Hero at the BBC Sports Personality Awards 2010, Lance Haggith OBE, said: "The Battle of the Balls is going to be a huge event and we are delighted to be working with Rugby For Heroes who do great things with their charity.
"We at Sports Traider know fully how sports can be of many benefits and it is great to be bringing all of these stars together to raise awareness on such an important day."
Visitors to the event also have the opportunity to book a pre-match dinner where Harry Redknapp and Mick McCarthy will take part in a Q&A session. Full team news and details can be found on the Battle of the Balls website along with ticket information here https://battleoftheballs.co.uk/