"I really couldn't believe my luck with this course. It was definitely what I needed at that time in my life, giving me a qualification which I could take back to my civilian rugby club"
Many servicemen and women would fully understand Amanda's story. When she says "I joined the Army at 16 straight from school and stayed in for 25 years" it would strike many of them as familiar. Like Amanda, they would face an uncharted future with some fear. Suddenly, Amanda says, she had no idea of what the future might bring, and this was "taking its toll on my mental health."  
Throughout her life, however, she says that rugby helped her to cope. She played for a Military Wives team when she was stationed in Paderborn, and a posting back to the U.K. allowed her to take the game up at Sleaford, her local club. With the worry of her service days coming to a close now in the forefront of her mind, she spotted a link to Rugby For Heroes on her Facebook feed. Immediately, she thought, it seemed "perfect" – "I could get a qualification doing something that I love." 
Amanda joined the course last autumn at Brockworth RFC, enjoying a week dedicated to the game she loves, but also dealing practically with the challenge of dealing with life on civvy street. She loved the "nice relaxed atmosphere" created by the RFU coaches, the RFH staff, the Brockworth club and, of course, her fellow candidates, who came from a variety of different service backgrounds. Not surprisingly, Amanda said that she would "totally recommend" the course.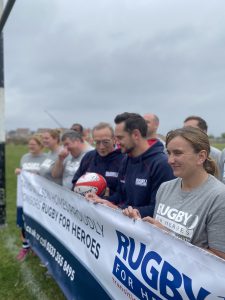 Amanda at press opening for course alongside ex Gloucester and Tigers fly half and RFH course mentor Ryan Lamb 
Contact alan@rugbyforheroes.org if you think up you might be interested in joining us on one of our courses. The charity covers the cost of the course as well as your accommodation and food during the week.