When the TTR admin team saw that they had an application form from "Roger Utley" they wondered why an England and Lions icon from the 1970's would be doing on a Level 2 RFU course.
When "Roger" arrived at the hotel base in Gloucester, he turned out to be a a 49 yr old NCO from 1 Military Working Dogs. The Yorkshireman from the Dales was joined by his colleagues from the Dogs unit, Chris Pritchard and Ceri Jones.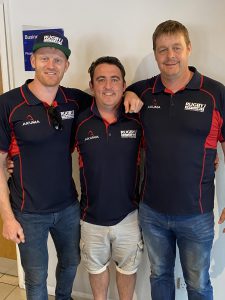 Roger has set up his own company (UK Canine Ltd) in preparation for his exit from the armed services at the end of this year. Reflecting on the TTR course, Roger's advice to any would be applicants was simple – "Do It!".
His colleague Chris Pritchard was similarly impressed by the course. The Bristolian's own background was noteworthy, to say the least. The illness of his father had curtailed his initial time in the armed forces several years ago. Now, at the age of 34, he has a CV that shows that he spent some time running the family business, then travelling to over 40 countries and working as a personal trainer. Chris has also been employed as a Prince Harry lookalike!
Ceri Jones played at his home club at Waunarlwydd near Swansea before joining up. Now, 15 years later, he feels that the TTR course has rekindled his love for the game, and he is looking forward to coaching so that he can, in his words, "give something back to the kids".
Ceri, Chris and Roger were great value on a course that was packed with some terrific characters. Expertly coached by the South West Coach Development officers Chris and Barbs and mentored by Ryan Lamb, the group deserves some credit for keeping energy levels high in the searing heat of the Costa del Gloucester. Everyone on the course successfully passed their Level 2 qualification, and everyone at RFH wishes them the very best on their coaching journeys.